Above: Village of Hopar, elevation 10000 feet, where our trek begins. Peaks in background are 24 to 27000 feet high!


Hello Friends and relations:

Some of you have seen this before, sent out shortly after our trip in 2000. I've added some more stuff from our journals plus some pictures.

I'm writing to you from my sick bed, afflicted with severe Delhi Belly, the South Asia term for the runs. All of us had ol' DB over the last month, now is my turn.
Each year the company gives us free RT tickets for home, or cash. Our friends in Pakistan, the Beenhams, invited us to come and we got great airfares, all four of us under $1000. This means we could pocket the bulk of the company air money, so I was happy. On the internet I found a trekking company , they set up a 2 week Himalayan trek for us and I sent them a deposit after a few emails. We flew off to Islamabad, Pakistan on July 4 , Nance and I and the two younger kids since Nick was at Scout camp in New Mexico. The trip was fine and we were met by our Canadian friends and taken to their huge new house (6,000 sq ft) in Islamabad's diplomatic area. It's a lovely quiet area of the city with great mountain views. Don works for the Canadian govt helping the Pakistanis with their energy policy, sounds strange but Canadians are a bunch of do-gooders. He earns a good salary in a place where a cook or a maid earns a dollar a day, so everyone has servants. Don and Carollyne have a staff of 6 or so including a wonderful cook, houseboy, bathroom cleaner, laundry man, gardener and a guard out front with a gun. This fellow salutes and does a goose step whenever we arrive. Accommodations were just great, needless to say. Every day Don comes home for lunch served on a fine tablecloth, fresh flowers, pie or cake for desert, it is the life of Riley. Servants are far more expensive in Doha so only Sheiks live this way. I was jealous as hell.
Training for the trek was a priority. I was a meanie, waking the kids up at 6 for a fast walk in the hills. Each morning we took a walk in the nearby Margalla hills from 4 to 9 kilometers long to get ready for our trek. The elevation was only 3000 feet or so but the climbing helped. The first few days were really hot, around 100, and the power fails almost every hot day, usually around 2 PM when you need it the most. Most Pakistanis illegally connect to power or bribe the meter reader or even disable the meter itself to get free power. Our friends are honest , and since they are one of the few in Pakistan who pay for electricity, they get hammered with bills of around $1000 per month!! So we could only AC the bedrooms at nite and sweated like pigs during the day, especially when a power failure caused the ceiling fans to go dead. It was a shock coming from Qatar where power is reliable and cheap. . Monsoon rains arrived a few days after we did and cooled things off, and it was quite pleasant. Water is another tricky business. Tap water smells like solvent and is absolutely undrinkable. A lot of the local bottled water you see is just tap water. Tourists buy Nestle bottled water from Switzerland, it's safe. The Beenhams had elaborate water purifiers and had mineral water delivered. To make a salad, for example, their cook Sonny washed each lettuce leaf in tap water, then in purified water from an ionizing unit, then again in bottled water. When you wash dishes you add bleach to the rinse water to kill the bugs. You need a staff just to keep things sanitary. We drank mineral water when at the house, otherwise we treated all water with iodine. On a trek this is especially important since you are several days walk from a doctor.

Our training continued. One day we walked 6 kilometers to the crest of the Maragalla hills, another day 9 . Marijuana is everywhere here, sometimes we waded thru waist high plants on the walking trail, just acres of it. The authorities try to control it but it's a native plant well adapted to Pakistan. I don't think the local people use it. The hills also had large wild boar that we saw a few times and Rhesus monkeys that yelled at us from the trees.

I heard from the trekking company, they wanted the rest of their money. Turns out the Pakistani govt had confiscated the deposit I wired. They do this to collect taxes; when you prove that you've paid taxes, or bribe someone, they release your money. They worked it out somehow. Finally on the 10th our guide Nasir picked us up in his jeep and we went to the airport for our flight to Gilgit, a town in the trekking area known as the Hunza valley, at an elevation of around 7000 feet. This flight (operated by Pakistan Int Airways, known as PIA or "prayers in the air") is frequently delayed by fog, sometimes people wait for two or three days for this once a day flight. The trip by road is TWO FULL DAYS on crappy dangerous roads so we were thrilled to get seats and take off. We flew with Nasir to Gilgit , sipping our milky tea (no alcohol) , passing between 27000 foot peaks, landing at the tiny airport. A friend of Nasir's met us and took us to a clean backpacker style hotel. We had lunch in the back yard under a plum tree and strolled down into town, did a bit of shopping. The next morning Nasir drove us to the lovely town of Karimabad, in the Hunza valley, at about 8000 feet, where we went on a few short walks and tried to adjust to the altitude. We walked around the town breathing deeply, trying to acclimatize. From Karimabad you can see one face of Ultar peak, and the next morning we went with an American family on a day hike to a meadow called Ultar nala on the flank of Ultar. It started out OK, following a path next to a steep glacier
stream that is the water supply for Karimabad. Then you encounter a
waterfall and the trail cuts up a steep muddy embankment with loose mud and
rock, and glacier water drips on you from above. Our friends and the guide
scrambled up this thing but it was a muddy mess , so we let them go on. Not
an auspicious beginning.


Hunza valley is fruit country, especially apricots. Every roof has wicker
baskets of apricot halves drying. The remoteness and bad roads make it
impossible to export fresh fruit, so they dry everything. Too bad they're Muslims, they could make and export apricot brandy. We stuffed ourselves on
apricots and other fruit which in my case did not help the runs. We passed a
new school being built by the widow of a Japanese climber killed on Ultar a
few years ago. The Japanese love this valley, thousands come here in the
spring to see the apricot and apple blossoms.

View of Karimabad town and orchards on hillside.
The next day after more short hikes we got in the jeep and went to Hopar,
a tiny village on a narrow dirt track at 9500 feet, the end of the road. This trip was along the legendary Karakorum Highway , built by the Chinese in the 60s to link China and Pakistan by road. It is a 2 lane paved road hugging cliffs above the Indus river thousands of feet below. Landslides are constant so crews are always clearing dirt and rocks. If you follow it east you climb to the Kunjerab pass at 14000 feet, open only in summer, and you're in western China. We met people coming from there, they said it was snowing. The village of Hopar is on a rough dirt road and it is land's end, a village perched on a mountain side above a glacier. Even donkeys cannot cross the glacier, much less any type of vehicle. From here you walk.
We stayed at the "Hopar Hilton". The "Hilton" isn't finished yet and they let us
camp in the front yard.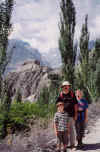 Above: Strolling around Karimabad. Tom wears a traditional Pakistan hat.

Above: Wicker trays of apricots drying. Have you had your dried 'cots today?

Above: Proud owner of the Hopar Hilton.
Here we met our trek crew, and they scurried about
setting up our tents and making dinner while we relaxed. Nasir was getting
everything ready for departure the next morning. We met the cook, Mohammed,
a friendly Chinese looking fellow with some English, and the porters, who are farmers from Hopar and go on treks for extra money in the summer . Hopar is on a cliff
overlooking a glacier, and we strolled down a steep path to take a look.
From above the glacier looks like a dried up river bed, all boulders and
gravel, with dirty brown ice poking thru in places. At higher elevations
glaciers are icier, and even higher have snow cover. A glacier starts as snow above 15000 feet, is compressed into ice, flowing down hill where it melts at 10000 feet and below leaving behind all the dirt and boulders it carried with it , like a conveyor belt. In this area glaciers move a meter or so a day in summer, groaning and rumbling, and freeze tight in winter.
We returned to the Hilton for a chicken dinner and hit the sack.
Next morning we were pumped, finally we start to walk. While we had
breakfast the tents came down and the porters loaded up their loads. We had
Nasir, the guide, Mohammed the cook, and 12 porters, each carrying 50
pounds. The stuff includes a massive two burner kerosene stove(one porter
load) , 10 gallons of kerosene (ditto), three heavy plastic food barrels
with our food , a kitchen tent, 2 tents for us and the guides tent, our
bedding , clothes and personal stuff, pots and pans including pressure
cooker, food for those hungry porters( takes a couple of porters to carry
the porters' food) etc etc. Porters carry next to nothing of their own, a
blanket or an old sleeping bag, a jacket and hat, no clean clothes. They
walk in cheap Chinese tennis shoes without complaint, sleep on the ground in
drizzle, eat a monotonous diet and earn $4 per day. They are tough. They eat mostly chapattis and tea, chapattis being a flour tortilla cooked in a small wok in hot lard, a few cigarettes for desert.
When we were ready Nasir assigned a porter to stay with us and carry a large
duffle with first aid, raingear, snacks, etc. We called him Nephew, since
his uncle was also on the trip. His uncle carried a porter load and also our
eggs, which he carried in a bucket, padded with grass. We headed down the
hill with Nephew and that morning crossed two glaciers, both gravel covered , scrambling over boulders and thru mud. We saw a group of village ladies on the glacier, also crossing, they in their slippers and we in our massive boots. Nance sank
over her knees in freezing mud and had to be pulled out.
. Crossing a melting glacier like this one is a cold and muddy trek but not really dangerous. Crossing the same glacier closer to its source is far more difficult since the ice cracks into deep crevasses, which can be snow covered. We strolled up the valley on the far side of the glacier in drizzle , stopping for lunch in a meadow. Mohammed and his helper spread out a thin woven mat and we, the clients, sat down Japanese style. Lunch was sardines, cheese, cookies, peanut butter, tuna and crackers. The crew had leftover chapattis and tea.

Above : Nance falls into a mud hole on the glacier, pictured also are Nasir and Nephew
It rained all afternoon and we made camp about 3. For this sort of trek you need good rain gear, it can rain for days. This camp was
called Bericho Kor, and had small wild rose bushes and a clear stream.
Porters like this spot because of an overhanging bluff, they built a fire
and got out of the rain. Elevation here is about 11000 feet, and we were
huffing a bit. We had a good dinner and headed to bed.
The next morning was cloudy. The porters were making chapattis, of course, for
themselves on a small wood fire. Mohammed made us
oatmeal , eggs, dried fruit and coffee. We took off with Nephew up a steep trail
behind the camp and climbed steadily all morning, stopping frequently to
gasp for breath. Our goal was to make it to 14000 feet that day, 2000 feet
up this mountainside then 1000 more on the ridge on top. That is a long climb in a single day, and there is a risk of altitude sickness, but your options are limited here, there is no good half way point.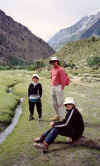 Above: Relaxing at Bericho Kor with Tom and Margaret

Above: Stopping to breathe. Nephew carries our stuff, other porters in background.

. We got to 12500 feet by lunch, and Margaret had no appetite and a headache. We had a quick bite sitting on boulders , enjoying the hard earned view. After lunch we
struggled on to the top of the steep trail at 13000 feet and stopped again. Nasir wanted us to continue on , pointing to the trail climbing the ridge and the porters already way ahead of us. I said no way, were staying here. We were spent, and Margaret did not feel
well. Nasir didn't like this spot, there was no water or shelter for the
porters, who do not have tents and need some sort of shelter. I said no. So
they set up , and we looked around . We were on a lovely sheep pasture, with
tremendous views of glaciers and high peaks. We walked around, Mohammed set up his cooking tent and made us a cake in the pressure cooker, it was tasty.
Then we had trouble. Thomas and Margaret started throwing up and complaining of headache, symptoms of altitude sickness. I told Nasir I was worried , he took a look at Thomas and said " we need to descend NOW" and off we went . Nasir put Tom on his back and started trotting back down the mountain , Margaret and I followed. Nance stayed to help the crew. We got to the bottom about dark, and the kids felt fine. The porters broke camp and headed down the mountain too, carrying their heavy loads down the trail they had just come up, the last coming down about an hour after dark, with Nance. I felt bad making these poor men carry loads up and then down a 2000 foot climb, but they were laughing and joking, they didn't mind. An elderly Austrian couple were at Bericho Kor with their trek crew, so when we arrived it was a lively place, our porters and theirs yakked all evening. We hit the sack, beat.
Next morning we watched the 60 year old Austrians tackle the mountain( they
did fine) and we had a rest day, doing some laundry and enjoying a little
sun. I found out later the brain swelling in altitude sickness is not a big problem in older people, as you get older your brain shrinks, leaving extra room. Not the case with kids, of course. The porters slept late , played shot put and tug of war. Around noon a
flock of sheep came thru and we bought a lamb for supper, had a nice mutton
curry. Also met some backpackers from Czech Republic, a young couple, they
stayed for lunch. They had no porters and were surviving on oatmeal, powdered milk and dried fruit three times a day. They joined us for canned fruit cocktail, tuna and other delicacies, they were in heaven. It was a good day.
Next morning it was raining again. We decided to skip the high elevation
part of the trek (the Czechs
had just come down and said there was sleet and zero visibility) and do an easy day up the valley to a place called Phari
Phari, about 5 hours, at around 12000 feet. . The walk was easy and Phari
was nice and wooded, lots of aromatic cedar firewood so we made a nice fire
to warm up. We strolled up the hill a bit to some stone shepherd huts, took
a few pictures. We were two days walk from Hopar .
END OF PART ONE